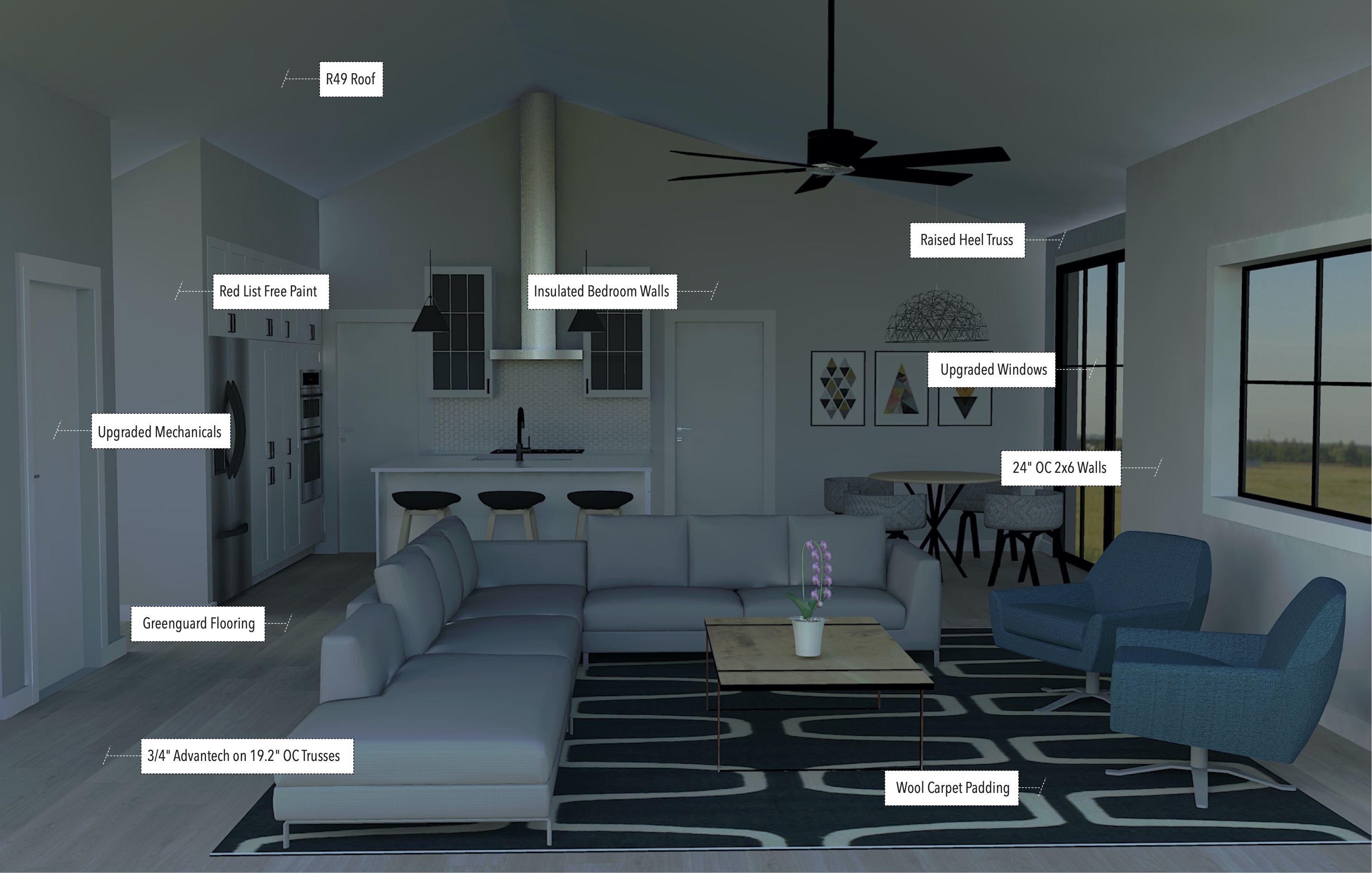 In our quest to build a Passive House, we've decided to live in the city near our house for 12-18 months so that we can seek out any potential deal breakers. At first, we thought we would just rent, or buy a home that could easily be sold again. But, when you're dealing with a small town, the real estate market is slim pickings. Fortunately, while we were touring one home, we spotted an empty lot. It turns out that the builder who owns that lot can build us a semi custom home within 6 months.
The Problem
The build quality of spec and semi custom homes is nowhere near that of a Passive House. We wanted to take this opportunity to ask for a few upgrades to the build. Normally, the home owner is presented with options to improve the kitchen, bath, and so on. We wanted to present a table of options for energy efficiency improvements and for the use of friendly materials.
Quick Take We're spending $17,350, or 5.8% of the house, on energy improvements and build quality. We would recommend that you consider spending at least $10,500, or 3.5% on your next home build.
With that in mind, we made a list of every quality upgrade we wanted. Then, we cut out anything that would delay the build because either the trades wouldn't be familiar with it, or because the products aren't readily available. When the build is finished, we'll revisit this with the outcome.
All of the calculations are for a 1700 sq/ft house with a walkout basement. Prices are adjusted to assume a base house price of $300,000, and to not disclose the builders exact pricing.
The Energy Efficiency Upgrade List: $10,500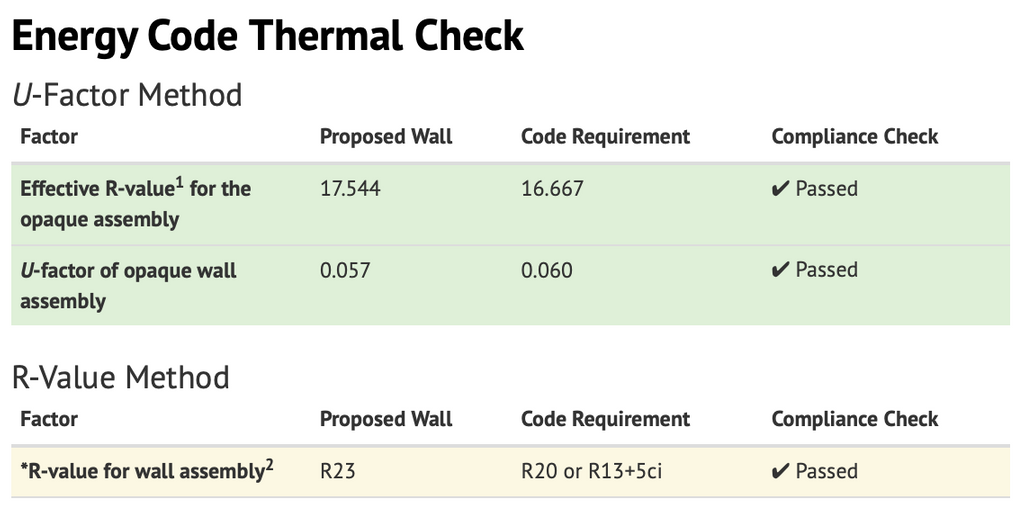 2x6 Wall Framing, 24" OC with Zip Sheathing $1,750
Standard homes in the area are built with OSB and Tyvek, so chances are that airtightness is not a primary goal. Zip sheathing is popular enough now that the builder was willing to give it a shot, which we opted for because there may be slightly better airtightness results with Zip. As for wall type, we looked at:
2x4 with continuous insulation (ZipR, or other) if the crew is experienced enough.
2x6 with no continuous insulation, but some sort of focus on airtightness.
A standard build with just a simple swap of 2x4's with 2x6's.
Looking at this Energy Vanguard article, it is clear that 2x4's with Zip-R would perform the best. However, no crew in the area has experience with Zip-R, so we opted for 2x6 with regular Zip.
Insulation $4,000
The default option for this build is blown in fiberglass. We asked about two improvements:
Up the density to 2lbs.
Replace the fiberglass with Rockwool batts.
The insulation installer was fine accommodating either option, and the price was almost the same. We're going with Rockwool because that is something we've always wanted to try living in. In addition to the walls, we also requested:
R49 in the roof.
EPS around the rim joists.
Better Windows $2,000
Windows get expensive fast, but most people won't care about them. We have to consider this for resale, which means we can't spend too much here. This means Passive House quality windows, or triple pane windows, are not an option.
We found out the standard windows that the builder uses, and looked through their catalog. The base windows that the builder promotes have a U value of 0.34. Using the Efficient Windows Selection Tool, our best options for year round comfort and energy efficiency are:
Efficient Windows Recommendation
| U-factor | SHGC | VT |
| --- | --- | --- |
| ≤0.22 | ≤0.25 | ≤0.40 |
| 0.23-0.30 | ≤0.25 | 0.41-0.50 |
For only about $2,000 more, we went with the model that provides approximate U value 0.27, SHGC 0.17, VLT 0.39.
Raised Heel Truss $1,000
16" of clearance is needed to get a roof to R49, so we went ahead and asked for raised heel trusses so that we're able to hit that target at the corners of the house. Not quite sure that this will see a return on investment, but for $1,000 we went ahead and signed off on it.
Better Mechanicals $1,750
The builder has an upgrade to a 14 SEER AC unit, which we felt comfortable with. We considered 16 SEER, but decided it wasn't worth pushing for in this home. After that, we asked for a heat pump water heater. They are not super cost efficient at this point, but we're interested in testing one out to see if that's what we'll be using in all future homes.
The Build Quality Upgrade List: $2,600
3/4" Advantech Subfloors on trusses spaced 19.2" OC $1,500
Because we have young kids, we want to keep floor squeaking to a minimum. We're going to tackle this from a few angles with one being better sub floors. At first, we asked for 1 1/8" Advantech, but the local lumber yard in the area convinced us otherwise. They moved us towards 3/4" Advantech with floor trusses spaced 19.2" OC. That change save us about $500, and gives them an easier product to work with.
Soundproofing Bedrooms $1,100
Another one for the kids – make the bedrooms a bit more soundproof. We're not going to huge lengths, but we did add Rockwool in the interior bedroom walls. We've also upgraded to solid doors for the bedrooms at aorund $50 a door.
Rainscreen 😞
By the time we thought of asking for a rainscreen, we felt that we had exhausted all of our good will with the builder. That said, you should definitely consider asking for a rainscreen if money permits.
The Air Quality Upgrade List: $4,250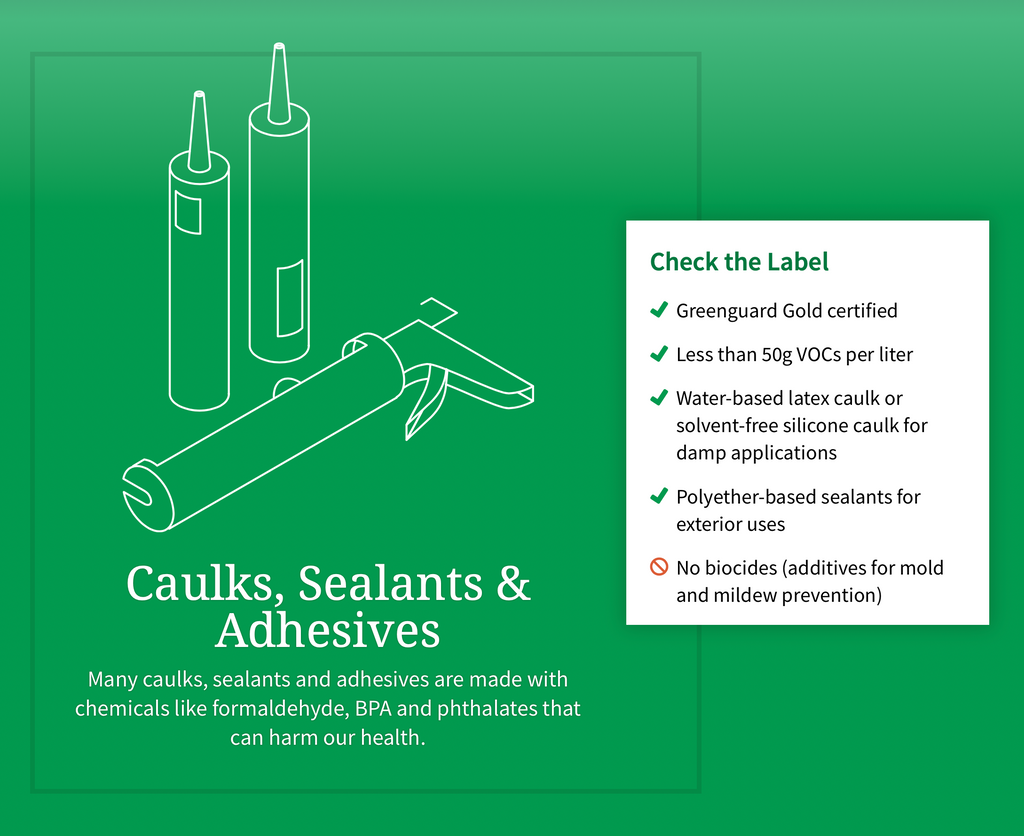 From flooring, to caulk, to paint – there is a huge list of things you can do to make a cleaner home. Seriously, we encourage you to read the entire guide. After that, jump on over to the Red List to see everything that you should try and avoid. For a custom home, a perfectly clean house is a noble goal. However, for the type of house we'll be temporarily living in, we decided to just focus on better floors, better paint & better drywall.
Cleaner Paint & Drywall $1,750
We used Benjamin Moore Ultraspec 500 in our current house, and loved it, so that's what we requested for the new house. There is zero odor when it is applied.
For drywall, we asked for Greenguard Gold certified drywall like Certainteed AirRenew, but received a bit of push back from it because it is 5/8" thick. In the end, the ceiling and basements (which we'll finish ourselves) will be AirRenew while the rest will be 1/2 thick drywall.
Cleaner Flooring $2,500+
Upgraded flooring can get expensive fast. Because there is reason to stay away from Vinyl Flooring, and other "irresponsible" options, we searched for some alternatives.
Here is what we found:
Amorim Cork looks amazing in person. However, no local company could order it. So, we'll order online at $5/sqft, and install ourselves in the basement.
We were hoping to avoid carpet completely, but it broke the budget. Wood flooring costs more, and then clean area rugs are needed.
As a small compromise, we're going to try wool carpet pads at an expensive $1.60-$2.60/sqft. Whitfield and [J Mish](jmish carpet padding) are two options to look at.
Kahrs flooring is Greenguard certified, and has the best online visualizer. Their higher priced floors are gorgeous in person, and their mid priced floors ($5-$7/sqft) are solid. Shaw Epic+ is a good alternative which can be found for slightly cheaper.
In our case, we're going with Kahrs. Their underlayment is $380 for the house, which is a premium.
Return on Investment
Not everything from the list above is related to energy savings. If you remove the items that are specific to our concerns, you're left with about $10,500 in upgrades. Once the house is complete and we have some actual data, we'll revisit this with the actual return on investment. If this house stands for 30, 50 or 100 years, it's a given that these upgrades are better for the world and the occupants. However, for us, we would probably have to live here for 15 years or so to benefit financially.