Posts About passivehouse
Below you'll find 13 results. Have a look, or check out our other topics.
As an average home owner, the different building certifications come across as a maze of information. Which initiatives are relevant and worth pursuing? Which have actionable information? Which are affordable? It can be overwhelming. While it is clear that architectural firms are the target audience for these programs, we've found that quite a bit can be learned about good home building practices just by going through the documentation. We've done some of the work for you, and documented our take on the different options. Read on to find our notes, bookmarks, and amateur conclusions.
Whenever we discuss a well insulated house, we're always met with push back on cost and overkill in general. In preparation, we wanted to see what a few different assemblies might cost. So, we met up with Ryan's uncle who has been building homes for the past 20 years. He gave us a breakdown on man hours for various applications like house wrap, siding, framing and so on. With that information, we could take material costs and get a rough price.
We're on to the floor now that we've done a first pass on the roof. We have to figure out how the first floor walls will transition to the rim joist and basement walls. Mainly, we have to prevent thermal bridging, maintain the necessary R values in the floor, and continue the air barrier. It will also be worth considering floor trusses vs joists, and how to arrange the floor for soundproofing. The spacing of the supports and the type of insulation can affect the latter. As with the first floor ceiling, some sort of service cavity (probably of the cheaper, generic drop ceiling variety) is likely to be used.
As we dig into the roof assembly a bit more, we're coming across transition details that need to be ironed out. First, how is the thermal envelope continued around the overhangs? There is a thermal bridge up the wall studs and through the trusses and out of the overhangs. This seems to be a similar issue at both eave and rake overhangs. Second, how will the air barrier transition from the Zip sheathing to underneath the trusses? Do we use Zip and Intello, or stick to just Zip? We'll have to turn to our trusty Youtube and Green Building Advisor resources to see what we can find.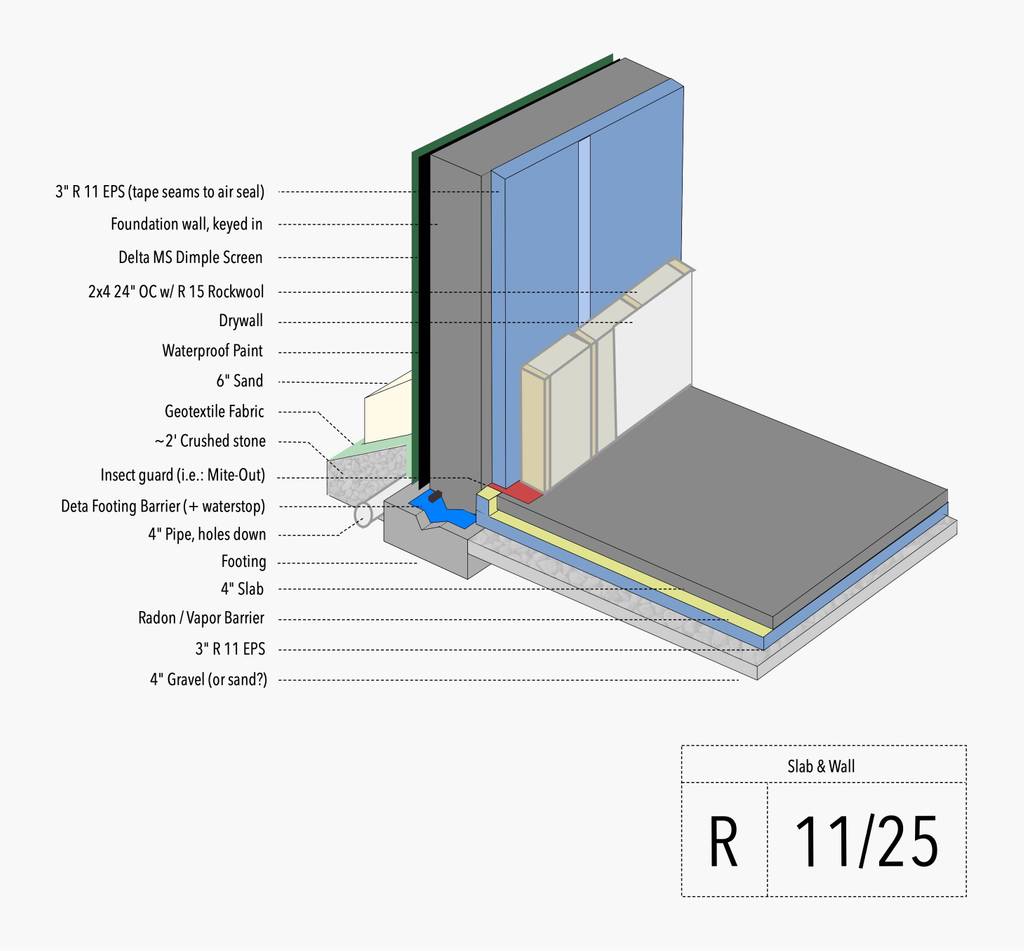 As we've gone down this path of trying to design a proper house with no building experience, each step has become more confusing. Starting with wall assembly, we gained some confidence that we can do this. Next, roof assembly required more thought and reading to propose something that may have potentially. And if the roof introduced a trickle of doubt, the basement opens the flood gates. Let's be honest – without talking to experts, we'll only be able to take the design so far. Still, we've given it a shot, and will continue to refine it. Hey, at least we now know more about basements and foundations than we ever thought we would.
Passive House Explained in 90 Seconds I specifically remember the "ah-hah" moment I felt when reading about a Passive House for the first time. It's similar to electric cars. You don't want an electric car because it is green – you want it because it is faster, quieter, smarter and easier to maintain than a traditional car. The same goes for homes. It's nice to have a green home, but the tangible gains brought by a Passive House are what make it appealing: cleaner air, lower utility bills, better sound, stronger buildings and a more comfortable space.
For better or worse, our general site location was chosen for us. We knew that we wanted to build on family land, and we also want to be near my wife's parents. That pretty much narrowed us down to acreage in Colwich, KS. Aside from that, there were still plenty of unknowns. Where are the best views? What is best for farming? Which areas can support an event venue? What sort of choices are too complicated and expensive? How many acres should we purchase? The list goes on and on. So, last winter, we went there and found answers for as many of these questions as we could.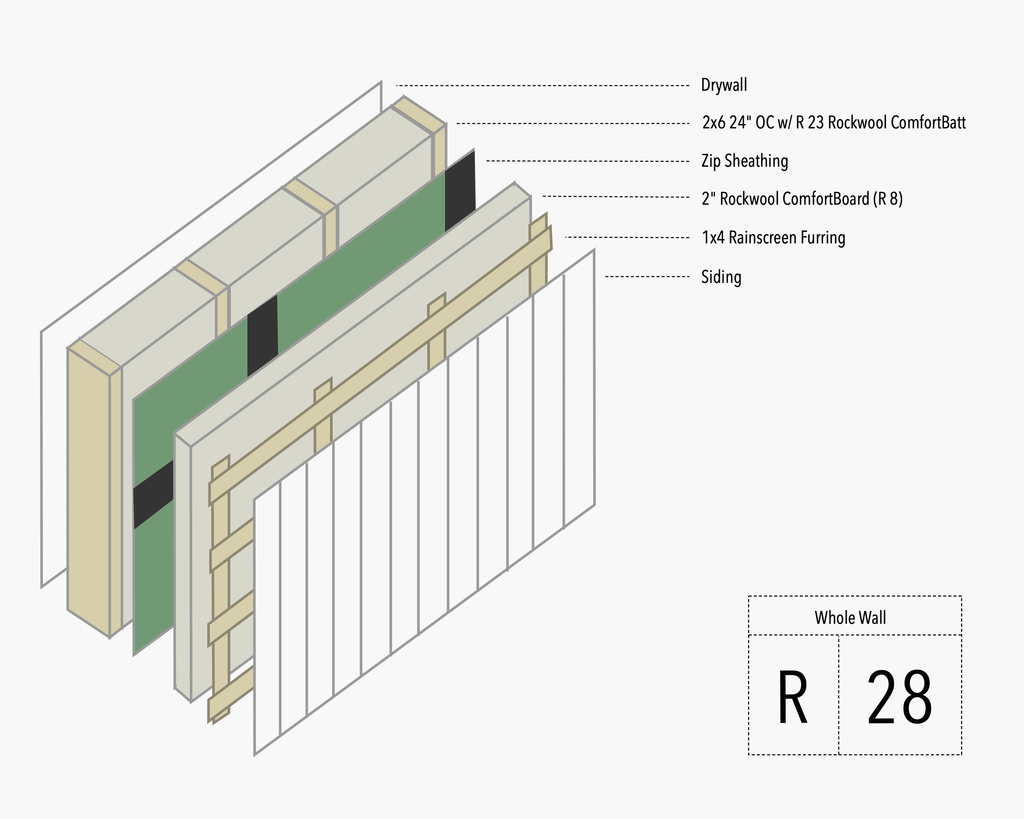 For a Passive House, there appears to be two dominant wall types: a double stud wall, or continuous exterior insulation. Hammer & Hand details these options nicely. While there are only two main designs, there are still plenty of products and approaches that make for infinite ways to assemble. After throwing cost, eco concerns, and ease to build into the equation we're left with a lot to consider.
For our house, we're leaning towards continuous insulation for two reasons. First, we're guessing that framers in our small town will be more comfortable and familiar with it. Second, since we're only in climate zone 4, it doesn't take too much insulation to meet standards. When you're dealing with 4"-8" exterior insulation, a double stud wall starts to become more appealing. With our choices narrowed down, we can take a look at targets, products and installation details.
When going the Passive House route, the amount of light a window lets in should be considered. During summer, we want less light. During winter, more. Because the sun sits lower during winter, overhangs can be used to control the light intake. Given that, how do we figure out the exact dimensions of the awning to allow for the perfect amount of light? Fortunately, there are free tools to help with the calculations. Not every window needs to have the perfect shade and light combination, but it gives us a target to aim for. Given our climate zone, the table looks like this: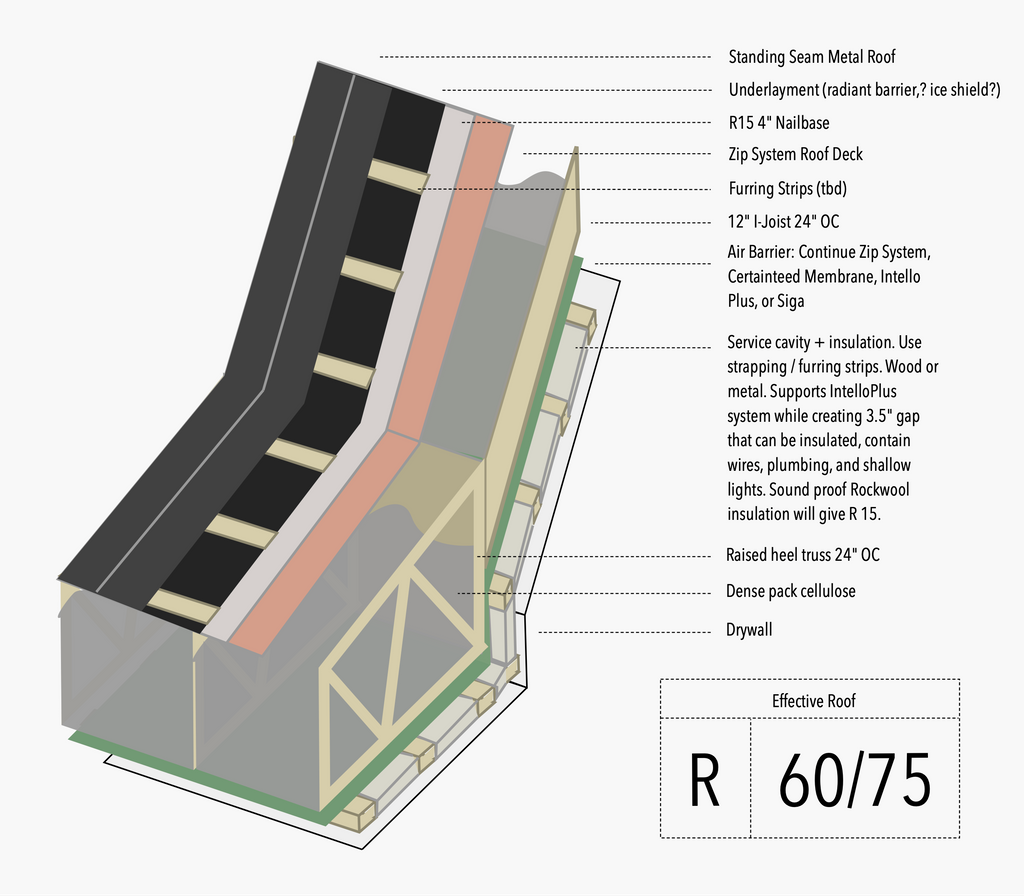 Roof assembly is definitely a trickier subject than wall assembly. Where walls have a few agreed upon approaches, roofs have to consider moisture, drying, vented or unvented, truss types, multiple air barrier locations and roof type. There are also details where the roof may change from a truss to a joist, which will affect the insulation design. Being novices, this leads to quite a bit of confusion. Below we've gathered some initial thoughts, but we'll have to consult with some experts on this one. As our design stands, there is a lot of redundancy, which may or may not be necessary.
---
Browse the Archives
Or, browse through everything we have discussed on this site. Just choose a topic to see related posts.