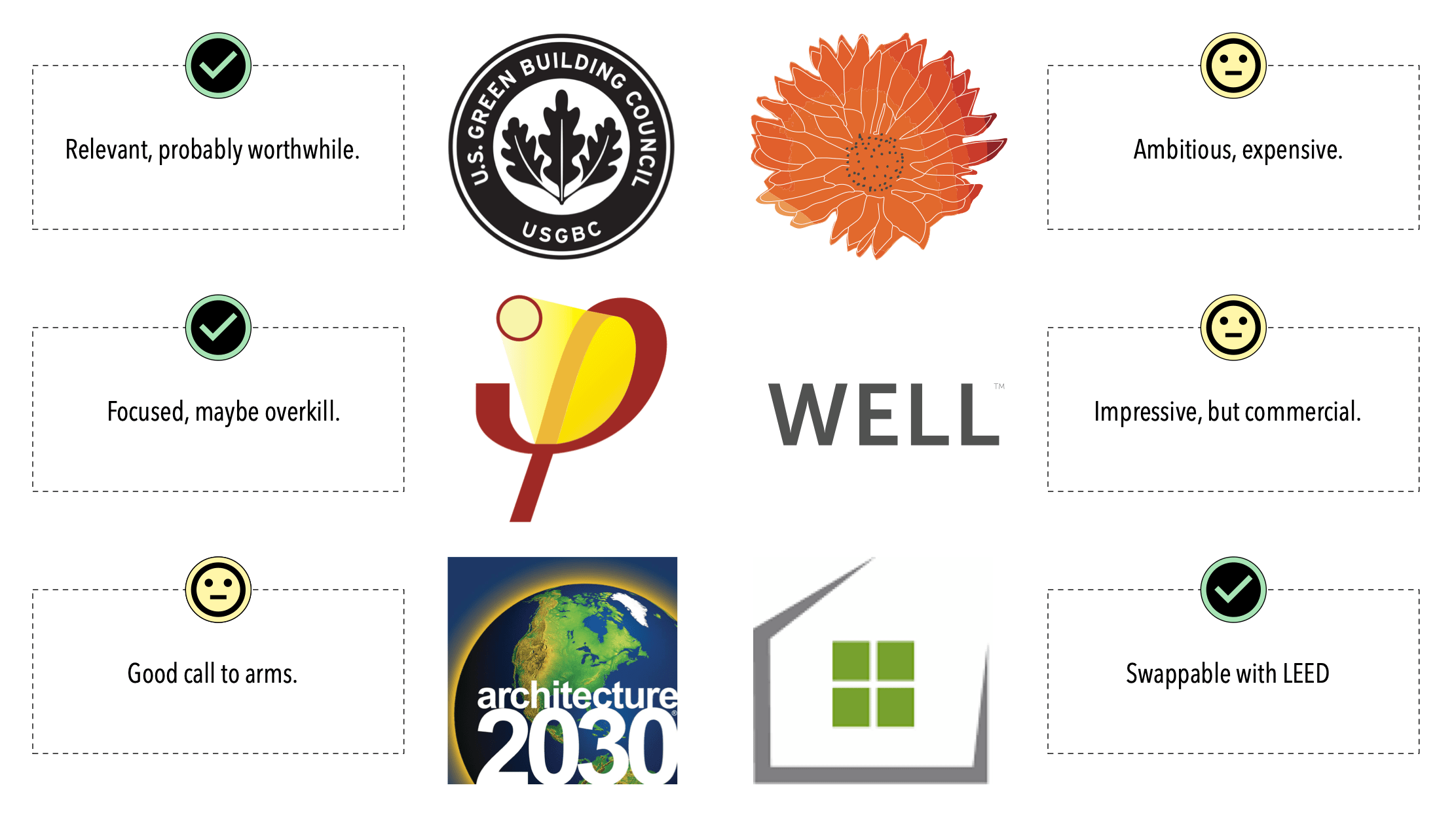 As an average home owner, the different building certifications come across as a maze of information. Which initiatives are relevant and worth pursuing? Which have actionable information? Which are affordable? It can be overwhelming. While it is clear that architectural firms are the target audience for these programs, we've found that quite a bit can be learned about good home building practices just by going through the documentation. We've done some of the work for you, and documented our take on the different options. Read on to find our notes, bookmarks, and amateur conclusions.
Passive House
Quick Take Clear, focused targets keep this goal within reach. Results translate directly to home comfort. Energy savings are real, but not optimized.
The simplistic take on a Passive House is that you're trying to significantly lower your heating demand. To do so, you have to make an air tight house without thermal breaks, and any energy that would escape the house must be recovered with an ERV. In turn, these measures result in lower energy bills, much higher air quality, sound improvements and consistent comfort throughout the house. The use of quality building materials and moisture control may also result in structures that last longer. We talk about this more in our case for a Passive House.
Should you decide to go for this certification, you'll have to choose between the original Passive House standard or the American (PHIUS). A discussion on Green Building Advisor thoroughly covers the divorce. Ecohome also summarizes:
PHIUS has since built its entire Passive House standards and certification programs around accommodating these climate differences, using elaborate calculations to determine what is practical and cost-effective for each specific climate. The idea is that owners should not have to invest in design features like thicker insulation that offer diminishing returns …
It appears that PHIUS attempts to solve our critique of overspending for Passive House quality without predictable gains, but it is unclear to us if that results in lower comfort or longevity. Either way, both offer convincingly better homes than current construction code, and are worth pursuing in our opinion. If we use Emu Systems as our consultant, we will probably certify with the original standard.
While there is a ton of information online, just go directly to the source and download the PH Certification Guide, or the PHIUS Certification Guide. PHIUS Certification will cost between $1,500 and $4,000 depending on size. We could not find a fees page for certifying a traditional Passive House, but did find a case study listing $600.
One last critique: For both programs, the required software is too difficult to obtain. We had to wire money to a German bank to get designPH. WUFI Passive does not work on macOS. Everything is expensive. The software is clearly aimed at firms. Still, it is an undeniably poor user experience that does not encourage discovery or experimentation. Poor documentation also leads to required companion books.
LEED
Quick Take Plenty of good ideas to learn and implement. Worthy goal, but certification is debatable.
Following the LEED guidelines will ensure that you've got a conscious building on your hand. Points are divided into 9 categories including Water Efficiency, Indoor Environmental Quality, Materials & Resource and Energy & Atmosphere. LEED 4.1 streamlines the process even more (scroll down to "Residential"). Their credit library and workbook are easy to get started with. Check out our detailed breakdown of the points we'll be pursuing.
By just reading through the credits, you'll gain quite a bit of knowledge regarding the various ways to improve your new build. Actually going through with certification is not required. One of the main benefits to certifying is the accountability. You can be sure that the systems you've installed are measured and working as expected. The certification process is straightforward enough, and will cost around $525 plus the cost of a LEED for Homes Provider. We've seen estimates for the all in total to be around $3,000.
We anticipate that our first LEED home will require a significant time investment for the learning curve. For example, one requirement reads:
Use products that were extracted, processed, and manufactured locally for framing.
Obviously, it is worth using local products. However, this does limit you from just buying anything you need. Research will have to be done for all products and vendors. Building this database and work flow will take time, but it would be time well spent.
National Green Building Standard
Quick Take Quite comparable to LEED, but without the status attached.
From our position, NGBS and LEED are largely trying to solve the same problem. But, for some reason, LEED seems to carry a prestige with it that can help with marketing a home or business. Our take could be completely off the mark – that is just what comes across in preliminary research. Buildipedia takes a look at the differences:
Although both systems require some level of third-party verification, LEED for Homes is more stringent in this respect.
However, with less paperwork comes a lower price. Certification is $200, and if the verifier has less to do than their fees should be less as well. As listed in the NGBS Analysis, the City of Cincinnati found NGBS to be around $800 cheaper. So, if the higher tiers of the program are equally strict, then a decent case can be made for NGBS.
Up next for us is to go through the NGBS Scorecard so that we can compare it to LEED in our specific project. Should we decide to certify, the process is comparable. And, as a bonus, NGBS has a handy database of certified products.
WELL
Quick Take Organized and thoughtful design. Great ideas, but aimed at larger buildings.
Unless we're missing something, WELL does not appear to be aimed at us (single family residential). That is further reinforced by their pricing, which puts certification in the thousands. That said, there is plenty that builders and other certifications programs can learn from WELL.
For starters, the online interface wins the design category when compared to all of these other certifications. You can go to the site and view the requirements. No accounts. No forms. No payments. Should you want to create an account and track your project, it is free and simple. Another nice touch is that every target is backed up by a cited source, so you can learn quite a bit from the documentation.
Then, if you look at the requirements, plenty of them make sense for both a large commercial compound or a small residential home. For example, Enhanced Water Quality: reducing metals and contaminates in your water. Our homework is to make a list of any WELL requirements that we will tack on to our LEED or NGBS certification.
Living Building Challenge
Quick Take Ambitious, expensive. Takes LEED to the next level, but with added fluff. Amazing materials database.
So, what is the Living Building Challenge? From the FAQ:
Living Buildings must demonstrate that they have achieved Net Positive Energy, Net Positive Water, and Net Positive Waste. As a result, Living Buildings generate more energy than they consume.
Or, as they state in their overview, they're trying to push beyond high performance buildings and into buildings that are sustainable with positive environmental impacts. Sounds interesting, let's jump in. But wait, in what is an otherwise nicely designed site, you have to fill in a form to download a PDF to find out more. We would recommend skipping this download and going to the petal sites for an introduction: Place, Water, Energy, Health, Materials, Equity and Beauty.
Looking through the 7 petals, most appear to be in a similar spirit to the other building certifications. However, Living Building Challenge takes everything a step further. The Kellogg Building project does a good job explaining some of the differences. To us, the standout difference is the Declare label.
Specifically, the Declare label incorporates the Red List, which is a collection of materials to avoid in your building products. This also comes with a beautiful database of quality products that are worthy of your home.
Like the Declare label, they also have a Reveal label which acts as a scorecard for your home. Unfortunately, it costs $750 plus a $150 membership fee and the label has to be renewed every two years. Additionally, certification costs $3,000 plus a $900 registration fee.
In addition to cost, another critique of the Living Building Challenge is in the vague and/or non building related guidelines. For example, a snippet from their Biophilic Design Guidebook reads:
For example, Evolved Human-Nature Relationships, and Natural Patterns and Processes are more psychological, and less explicitly physical than Light and Space or Natural Shapes and Forms.
We appreciate the value of design and atmosphere on the occupants of a space, but question whether it has a place in a green building certifications. Similarly, the Equity petal strives to address "institutionalized racism and sexism, and widespread discrimination." While we agree with being a conscious neighbor, not every aspect of the Living Building Challenge makes sense for a one off residential build. If we were to become builders, a more holistic approach could make sense. But, for this build, we'll probably just pick our favorite petal targets without going after certification.
Architecture 2030
Quick Take Measures in reductions instead of points. Good call to arms. Unnecessary if pursuing other certifications.
As far as we can tell, Architecture 2030 is both a building code and a challenge. Zero Code is more of a prescriptive path, while 2030 Challenge is more of a pledge based on:
All new buildings, developments and major renovations shall be designed to meet a fossil fuel, GHG-emitting, energy consumption performance standard of 70% below the regional (or country) average/median for that building type.
Energy is measured with a Zero Score, which can be visualized with the Zero Tool. However, it is not immediately clear to us how this differs from a HERS Score. Regardless, if your goal is a Passive or Net Zero house, it seems that you'll satisfy the 2030 Challenge.
In addition to the 2030 Challenge, there is also a 2030 Challenge for Embodied Carbon, which aims to lower embodied carbon emissions. We found this relevant because it is accompanied by a Carbon Smart Materials Palette. Reading through the companion site proved to be a good primer for various best practices. For example, have a look at their page on insulation. Likewise, and not to be confused with the Carbon Smart Palette, the 2030 Palette offers education on site, building and planning best practices.
As far as certification goes, we could not find anything definitive for either the code or the challenge. Perhaps the proposal is to have jurisdictions adopt and enforce it?
Final Thoughts
Exhausted yet? Well, lucky for you, there are more certifications and targets. Breeam and BuildingEq for starters. The waters are quite muddied, and we're not sure why there is so much forking. It could be due to different barriers, countries and opinions. Or, there is profit to be had. Fortunately, for our single family build, it doesn't matter. We're just looking to build a good home given our time and financial constraints. With that in mind, our path will likely be:
Aim for Passive House certification as it is closest to our objectives.
Mostly follow LEED or NGBS, and possibly get certification.
40% or more reduction in embodied carbon emissions specified by the 2030 Challenge for Embodied Carbon.
Avoid Red List materials as much as possible.
Read through and learn from all of the programs.