Welcome to the Archives
You've found it. This is everything we've got to say. Have at it.
When going the Passive House route, the amount of light a window lets in should be considered. During summer, we want less light. During winter, more. Because the sun sits lower during winter, overhangs can be used to control the light intake. Given that, how do we figure out the exact dimensions of the awning to allow for the perfect amount of light? Fortunately, there are free tools to help with the calculations. Not every window needs to have the perfect shade and light combination, but it gives us a target to aim for. Given our climate zone, the table looks like this: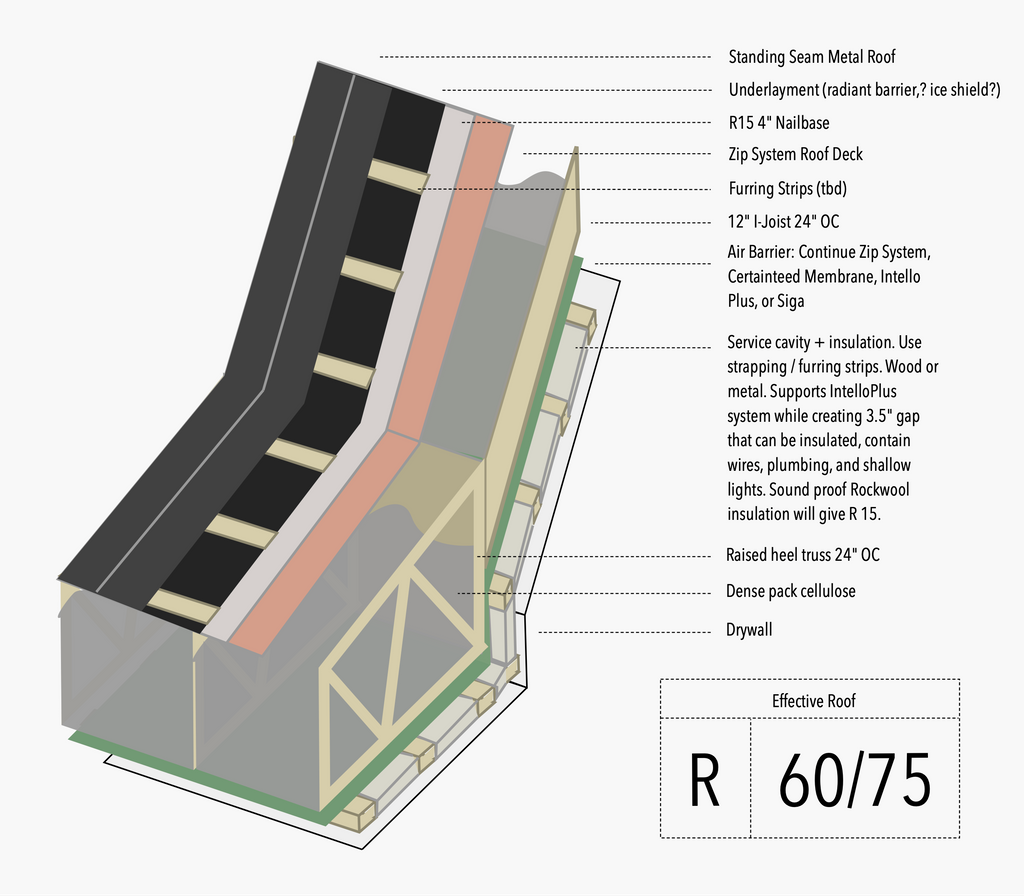 Roof assembly is definitely a trickier subject than wall assembly. Where walls have a few agreed upon approaches, roofs have to consider moisture, drying, vented or unvented, truss types, multiple air barrier locations and roof type. There are also details where the roof may change from a truss to a joist, which will affect the insulation design. Being novices, this leads to quite a bit of confusion. Below we've gathered some initial thoughts, but we'll have to consult with some experts on this one. As our design stands, there is a lot of redundancy, which may or may not be necessary.
Building off of the grid is a bit more expensive than we anticipated. The desire to be isolated, have good views, and have plenty of land are the driving forces, so it is still worth it. It's just expensive. For about a 2000ft road, we're getting estimates from large establish companies for around $75,000. That's for 1750ft of gravel, and 250ft of concrete. Moving the house a bit closer to the main road can shave off $5,000+. Lot placement will be huge in this regard. We'll also have to balance a road that blends in with the surrounding environment versus just going from point A to point B.
I now have 4 side projects in motion along with personal tasks like finance and communication. For the first time, my go to workspace solution of mission control and spaces doesn't cut it. Between Xcode, multiple terminal windows running, Photoshop, Mail, Photos, Sketch, and so on I finally felt overwhelmed. It's time for a new solution.
The image above is our best guess at what we should be targeting. How did we arrive there? First, we started with The Passive House Institute's initial targets for our climate. In their words, "The PHIUS+ 2015 Passive Building Standard provides the climate-specific sweet spot where aggressive energy and carbon reduction overlap with cost effectiveness. It accounts for a full range of variables including climate zone, source energy, and costs.