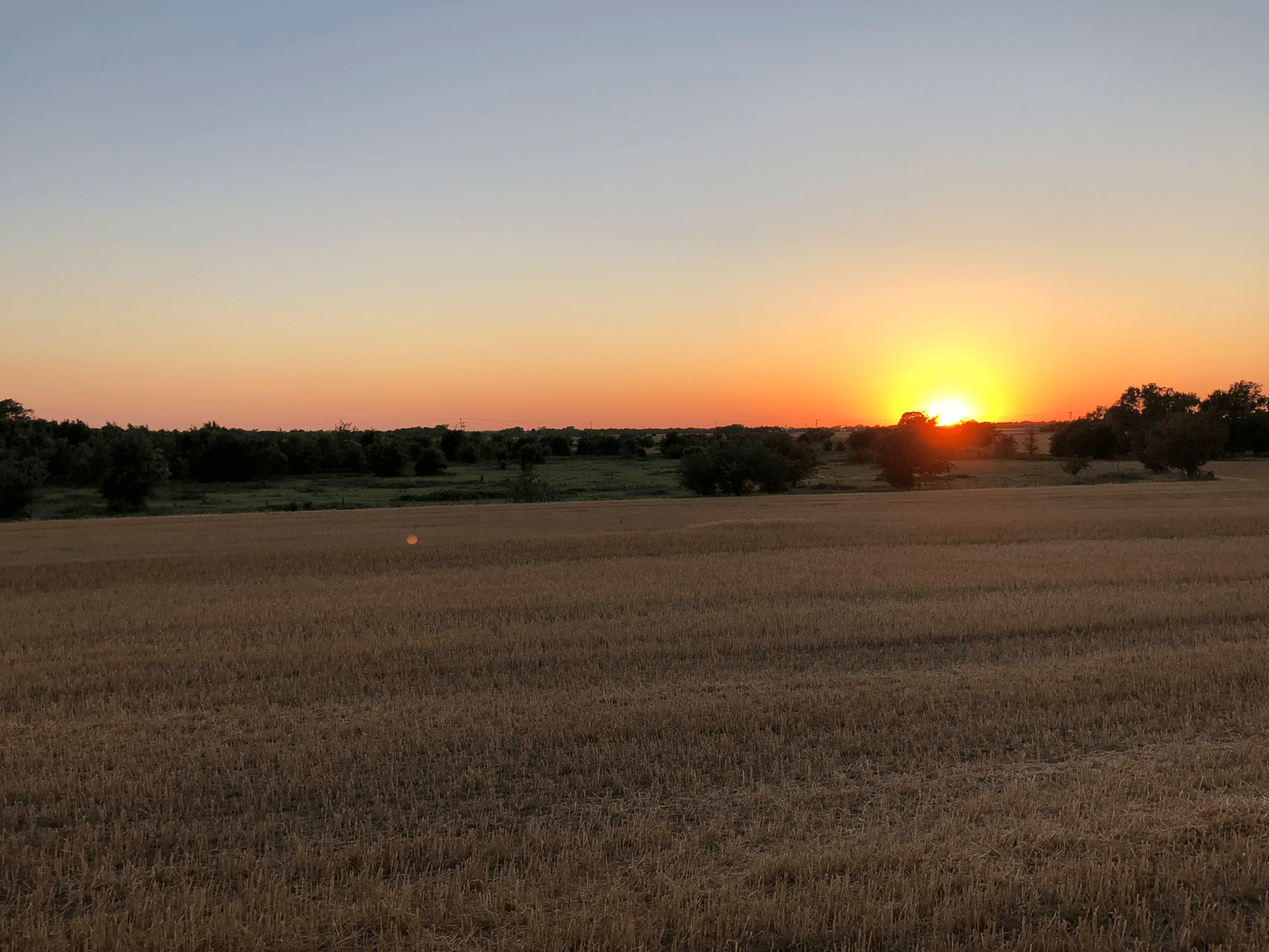 For better or worse, our general site location was chosen for us. We knew that we wanted to build on family land, and we also want to be near my wife's parents. That pretty much narrowed us down to acreage in Colwich, KS. Aside from that, there were still plenty of unknowns. Where are the best views? What is best for farming? Which areas can support an event venue? What sort of choices are too complicated and expensive? How many acres should we purchase? The list goes on and on. So, last winter, we went there and found answers for as many of these questions as we could.
House Location
We walked the fields to see, in person, which spot provided the best views. We eventually agreed on a location that checked off the most boxes: south side view of a pond; a good view of the sunset; a natural barrier of trees; keeps the most farmland usable; has a natural slope which allows a walkout on one side. It also sets itself up nicely for a walking trail between family houses.
One very specific question we had to find an answer to is whether or not the house needs to sit directly south. Since the pond is not directly south, we would like to angle the house as much as possible towards the pond before passive solar starts to decline. We don't have an exact answer yet, but there is the 10-degree rule. We also came across this guide:
It is ideal to have the windows (solar glazing) within 5 degrees of true south. However, windows that are within 15 degrees of true south are said to function almost as well.
Our proposed house is almost a box, so the shorter side is only about 8 feet shorter. Facing the shorter side south shouldn't be an issue for us since the majority of windows will still be on that side.
Future Growth
We have plenty of ideas of what we could do with the land, but we're not sure what we will do with it. As of now, everything is just a dream or an idea. Still, we have to plan for everything that we may want to do. Of those dreams, two need specific planning: an event venue and a market garden.
Ryan has a small obsession with The Market Gardener, so we've prepared for that in the slim case that we see it through. Fortunately, there is not much to do other than have access to a wind protected, south sloping hill. At a minimum, we'll have a small family garden. Should we enjoy gardening that much, everything will be accessible to the road and storage.
More likely, we would build a second structure on the land. First thoughts are for a wedding venue. We were recently inspired by The Farm in Asheville, and my wife loves to plan events. Seems like a perfect fit. A lot has to go right for this to be a reality. There are no guarantees, but we'll plan for it anyways. The main considerations are a view, proximity to the house, and places for parking. Check, check and check.
Zoning
Now that we have all these grand ideas, we've got to find out if they're possible. This step was probably the most intimidating since we're complete general contracting newbies. The first thing we did was to gather all of the online resources. Fortunately, there were plenty in our county. Most importantly, an online map (see image) that tells you what zone you are in along with other information like flood areas and topography. This tool showed us that we will be in zone RR, which is a rural residential designation.
With that information, we can now go to the city website and find out what use cases are allowed for zone RR. There are both approved uses, and conditional uses which can be granted by the planning commission. As it stands, we're permitted to run:
Bed and Breakfast Inn
Event Center in the County
Farmer's Market in the County
Kennel, Hobby
Wireless Communication Facility
Those first three bullet points satisfied our immediate needs, and opened the door for more specific questioning. If you're going through this process, we urge you to read through the entire zoning use documentation. Here are two stories to illustrate why:
Looking over the detailed comments on events and farmers market, we found "Farmer's Market in the County on property with less than 20 acres requires a Conditional Use." When we spoke to our initial contact downtown, they were not aware of the 20 acre limitation. This greatly affects our land purchase and site layout.

Along the same lines, another contact said that alcohol is not permitted. However, the documentation states "The service of food and drink may be permitted both indoor and outdoor as part of the operations of the facility provided that the service complies with all applicable regulations. The service of any alcoholic liquor or cereal malt beverage is permitted only with applicable licenses."
We bring these points up to emphasize the need to educate yourself. At the same time, we've also noticed that all of the zoning contacts we have spoken to have been friendly and helpful. They are usually knowledgeable about a variety of subjects, or can put you in touch with a specialist on the matter. We covered everything from hiking trails to sewage systems and felt that we had a team of people willing to guide us through the process.
Private Roads
We've learned more about roads than we've ever wanted to. First, roads are expensive. It may cost up to $75,000 for us to run 1750ft of gravel and 250ft of pavement. This is partially due to the second problem, fire code, which adds complexity to the road. More on that later. And finally, roads require sign off if they touch another persons land. In our case, we own a back corner, so the road will run through my wife's parents land. That will require the problem paperwork.
Going back to fire department code for service drives – the road must be 20ft wide! A turn around is required within 200ft of primary structures, which means our circle drive will be huge. As far as we can tell, there is no way around this. We're going to go down and talk to the fire department on our next visit.
Electric, Sewage, Water & Internet
Last, but not least, will the site utilities meet our demands? Let's break these down one by one:
Electric: We would love to be completely off of the grid, but the size of our house and the idea of running a business on the land make that intimidating. So, we got pricing from the local utility company. It will be roughly $20,000 to run 1750ft on above ground poles with the final 250ft underground. We're leaning toward this option, but we still plan to do the math on total house energy usage, additional solar panels and batteries versus a grid hookup.
Sewage: Nothing crazy to report here. A septic tank will be fine. The soil and area is fine, so there are no weird requirements like a sewage lagoon or certain type of septic system.
Water: As with sewage, we can reference the in-laws house as a guideline. Well water has been complication free for them.
Internet: Internet is poor, but improving. Fortunately, fixed wireless is an option. It compares in speed to Satellite, but has low ping since it is communicating with a nearby tower.
Solar & Geothermal: Geothermal is perfect in this area, which is great since it should cut our energy usage in half. We still have to decide if we'll go with a closed loop system, or open loop and return water to the nearby pond. Also, solar is a reasonable option which will help us get to net zero.
What's Left?
In our metrics, we do mention that we're concerned with LEED scoring. While we won't get certification, we do respect the idea of being a responsible home builder. The big strike with our current approach is that it places so much road, and a house, over existing farmland. There are some benefits as well – we'll have to calculate the score knowing that this will be one of our weakest areas.
Aside from that, we'll have to plat the land. We know we need at least 20 acres, and are looking at up to 40. This will require a survey, some clarification over what can be grandfathered in, and some consideration for residential vs commercial uses. As this gets ironed out, we'll update it here.